Last week I texted Marcy to see if she's like to join me on a new link up for motivation.
I already knew she'd be so ecstatic to join me since she's motivated me from the beginning of this new weight loss journey I started. So here we are today bringing you Fat to Fit Fridays!
I have 2 amazing co-host who have inspired me to get fit.
We're just 3 ladies looking to lose those extra unwanted pounds.
There's times when we need extra motivation to get moving and start sweating.
Are you looking for motivation yourself?
Do you need an accountability partner?
Do you have any healthy recipes you'd like to share?
You came to the right place looking for it.
Join us in this fun link up on becoming "Fat to Fit" each Friday!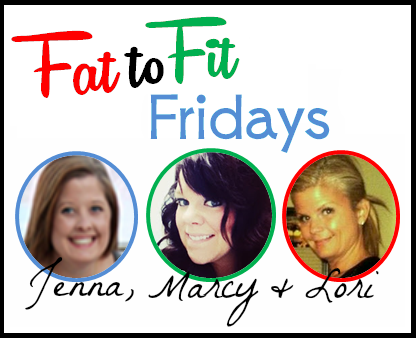 This week I have completely slacked! As in I haven't worked out all week.
I have watched what I've been eating though.
Counting calories isn't as hard as you may think.
Sign up for MyFitnessPal and input what you eat.
BOOM
It calulates it for you.
I've had subway flat bread sandwiches and salads pretty much all week with the exception of a sinful buffalo ranch chicken sandwich from Chili's.
I stepped on the scale this week and lost 3 lbs. since I started my DietBet. If you'd like to join in still you can! Search for OperationGetFit pay the $10 to get in and start losing. There's 16 days left on this bet to lose only 4% of your body weight.
Make sure to link up with us if you're looking for that extra push!


Don't forget to enter
My Favorite Things
giveaway!
I'll be picking one of you on Saturday!